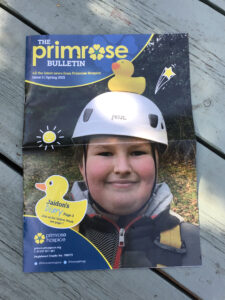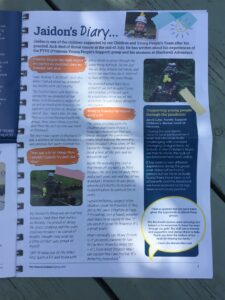 I recently received a copy of The Primrose Bulletin with all the latest news from Primrose Hospice and wanted to share with you Jaidon's story. Jaidon has written a diary in his own words of how Primrose Hospice Children's Bereavement Team have supported him after the loss of his Grandad who died from throat Cancer last July.
20% of the profit from each purchase from the Sally's Sunflowers Collection is donated to Primrose Hospice Children's Bereavement Team supporting children and teenagers dealing with the loss of a loved one …
I wanted to give you an insight into how the wonderful team at Primrose support children and teenagers coming to terms with the loss of a loved one and what better way to do that than through the words of a child who has received bereavement support.
Every purchase that you make is helping to make a real difference to children and teenagers like Jaidon who are and were in need of support.
Thank You for helping to Spread The Sunshine and to make a real difference.
Jaidon says
" I was finding it difficult. I felt like when I talked about my Grandad my insides were just empty"

"Primrose Hospice has really helped me express my emotions since my Grandad Jack died"
The Primrose Children's and Young Peoples Team have used a combination of Zoom sessions to replace one to one and group meetings during COVID Restrictions as well as organising group activities for children and young people to get together and enjoy a range of activities with others who are experiencing the same range of emotions associated with loss. This coming together in an informal environment to help with the feelings of loss and isolation in a fun and sometimes challenging environment trying out new things helps to bring comfort, support and understanding aongside others experiencing the same emotions.
Jaidon visited Blackwell Adventure with The Primrose Young People's Support Group PYPS
Jaidon says
"The first time I went to Blackwell it was a mixture of feelings because I was anxious but quite excited too .

There were lots of things there I wouldn't usually try and I did them!

My favourite thing was go-carting because I had done that before on holiday.I'm proud of doing grass sledging and the crate stacking because I'm scared of heights though I only went up a little bit but I was proud of myself.

My grandad would have been proud of me but he wasn't very adventurous so I'm not sure he would have tried any of the activities. He was happy doing his crossword.

I got to know one of the other boys quite a bit and being with other children going through the same thing did help. On the last day we drew around our hands and wrote our emotions in it. Most of us had written the same things.

The Zoom sessions with the children and young people's team have helped me feel less lonely through the pandemic.I really liked making the memory boxes because I drew some of his favourite things and put some of my grandad's throphies inside. I also put a few things of my Nan's inside because she also passed away three and a half years ago.

I would definitely suggest other children speak to Primrose if they are in the same situation as I was. A friend has lost a family member and I have been saying to him " if you need to speak to Primrose it's a great place."
What I normally say to my friends is if you need someone to talk to I'm here.Primrose helps too- it's been great because now I can explain how I am feeling.It's definitely helped me"
I hope this insight first hand from a child's perspective has helped to give you an insight into just how important this kind of bereavement support is to children and teenagers. A safe environment to express their emotions, be with other people going through the same experience alongside professional care and expertise.
This service is free to any child or young person who needs it with or without a connection to the hospice.
David Burrell, Chief Executive Officer Primrose Hospice  says
"We hope that our fundraising and retail teams will be able to continue to raise the £1.75million required to provide our services every year free to anyone who need them whenever they need them.Your help and support is more important than ever as we strive to maintain our services and adapt to the new challenges that will emerge after the pandemic."
Sally's Sunflowers is inspired by Sally, who always turned her face towards the sunshine in search of the light just as Sunflowers do and who spread sunshine wherever she went …
It was Sally's greatest wish that her beloved son should receive the professional love,care and support to help him deal with her loss that the Primrose Children's and Young People Team can provide.
Primrose clinical team looked after Sally in her final days
Therefore, Sally's Sunflowers pledge to donate 20% of the profit from each purchase from the Sally's Sunflowers Collection of eco silver jewellery, responsibly sourced and organic cotton clothing and accessories designed to Spread The Sunshine and put a smile on your face to the Primrose Team to help fund the survival of such an important service.
Gilly🌻
Gilly Page
Designer Maker & Founder
Sally's Sunflowers by Gilly Page Jewellery
www.sallyssunflowers.co.uk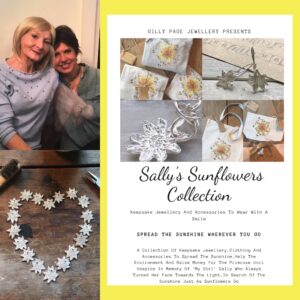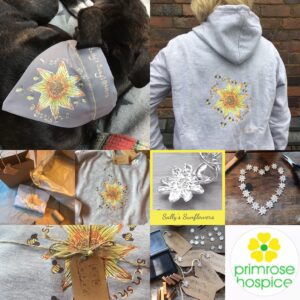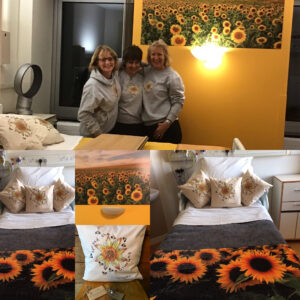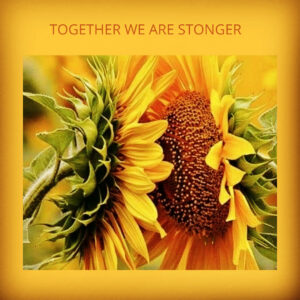 To find out more about Primrose Hospice and the services they offer please visit
www.primrosehospice.org
To find out more about Blackwell Adventure please visit
www.blackwelladventure.co.uk