The summer holidays are here and as August is about to be upon us and Sunflowers are blooming in all their glorious happy splendour in fields are gardens nationwide.
If you are a Sunflower lover as I am and are looking for something to entertain your children big and small these school holidays I have compiled a list of 6 Sunflower fields to visit in the UK whom I follow.
As I sit writing this post an idea has popped in my head, how lovely would it be to plan a trip following the Sunflowers smiling faces on a giant sunshine trail around the country – a lovely staycation holiday with a difference… that is definitely going on my 'to do' list !
I've listed Sunflower fields around the country so hopefully there will be one near to where you are if you don't want to travel too far.
Gilly🌻
Writtle Sunflowers
http://www.writtlesunflowers.co.uk
A small family run pick your own field in Chelmsford,Essex
Part of a working farm
Opening early August
There is:
Parking
Picnic Area
Small Maze for Children
Occasional visit from a coffee van
Well behaved Dogs on leads ( please dispose of poo bags responsibly – don't leave behind ! )
You can find them on both Facebook and Instagram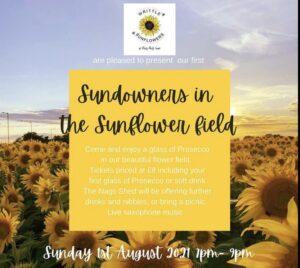 Sunflower Maze
http://www.sunflowermaze.co.uk
Based in Tarbock, Merseyside
Sunflower Maze is the first charity Sunflower Maze raising over £40,000 for NHS Charities during the Cornorovirus Pandemic
Tickets are now on sale for 2021 with 50% of all profits  donated to charity.
You can find more information on Facebook and Instagram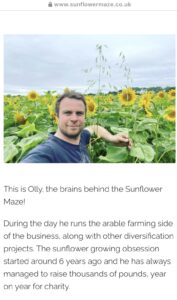 Hitchin Lavender
http://www.hitchinlavender.com
Hitchin, Hertfordshire
known for their beautiful lavender fields, during August Hitchin Lavender also has the most beautiful Sunflower field.
Sunflower stems are 50p! ( price correct at time of publishing) just think what a glorious bunch of sunshine you could have for just a few pounds !
follow them on Facebook and Instagram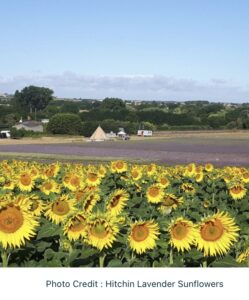 Cotswold Farm Park

http://www.cotswoldfarmpark.co.uk
Based just outside Cheltenham, Gloucestershire
Cotswold Farm Park is the family farm of Adam Henson of Countryfile fame.
Cotswold Park Farm has a glorious Sunflower field and Sunflower trail with a viewing bridge to take photographs and the opportunity to purchase Sunflowers to take home with you.
There are lots of Farm and Countryside related events throughout August including meet the animals.
Full details and how to book can be found on the website.
More information and updates via Facebook and Instagram
Cotswold Farm Park also has:
Animal Barn
Discovery Barn
Adventure Barn
Wildlife Walk
Woodland Walk
Conservation Area
Outdoor Play Area
Bouncy Pillows Viewing Tower & Platform
Muddy Kitchen
Food and Drink facilities and Cafe
Shop
as you can see, plenty to do for a full days adventure !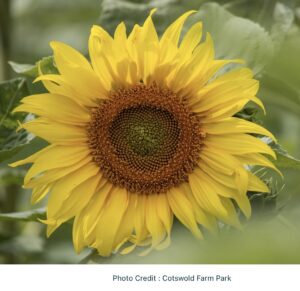 Rhossili Sunflowers
http://www.nationaltrust.org.uk
In recent years the National Trust have planted a spectacular display of Sunflowers with the stunning backdrop of Worm's Head on the Gower Coast, Wales.
However, due to the Coronavirus Pandemic the National Trust were unable to plant Sunflowers in 2020 due to staff being furloughed, so instead a local farmer Mr Robert Morgan bought two fields adjacent to the National Trust site and planted his own fields of sunshine making the site even more spectacular by planting a variety of Sunflower colours.
Mr Morgan has been busy planting seeds ready for 2021 along with the National Trust display planted for 2021 so this should be quite a site to behold!
You can also find Rhossili Sunflowers on Facebook and Instagram
information courtesy of http://www.walesonline.co.uk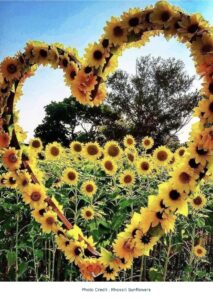 The Pop Up Farm
Based in St Albans, Hertfordshire
A small family fun farm hosting pop up farming festivals throughout the year.
There is a Sunflower Trail, Pick Your Own Sunflowers and 'Sunflower Sommeliers' to teach you everything you need to know about Sunflowers !
You can find them on Facebook and Instagram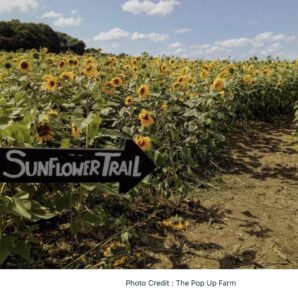 I hope you have found this useful and has inspired you to 'Spread The Sunshine' this summer.
I'd love to see your photos of your adventures please use the hashtag #spreadthesunshine to share.
Gilly🌻